Children's Work at Elim Coventry Church
Here at Elim Coventry we believe there is no junior Holy Spirit! A verse spoken over our children at Elim Coventry is Psalm 8:
"You have taught children and infants to tell of your strength, silencing your enemies and all who oppose you."
We aim to teach the children the authority and place they have in the kingdom of God, to help them to be released into their spiritual gifting and to develop a deeper relationship with God. To do this we have a range of activities available for the children on a Sunday and during the week.
Sundays:
Treasure Tots: For Children under 3 years. This is a room with a selection of toys available for the children as well as a Live link, allowing you as parents to hear and see the service whilst your child plays. (Headphones are available)
Powerhouse: Powerhouse is our Sunday morning kids church. We offer a full program each Sunday for children age 3-11 which run alongside the main church service. These sessions are split into 3 age groups.
Foundations (Age 3-reception) - The children in this group look at the bible stories in a fun, interactive and creative way! setting foundations in their lives!
Roots (Year 1-4)- As the children move up to roots, we take those bible stories and look at how we apply them to our lives. our teaching often follows the same theme as the adult service (in a fun way), allowing kids and parents/carers to go home and discuss what they have learnt. This is the age where our children begin to build roots!
Deeper (Years 5&6) - In Deeper we carry on the life application teaching and also allow space to explore faith. This is a transitional age, as they prepare to move up to secondary school and youth, so we see the important of allowing the children to go deeper through questions and discussion time!
We have a registration system for all children who come into Powerhouse. This opens at 10:40 -11:10.
Additional Groups:
Connect+: We are an all inclusive ministry and see the importance in supporting children and families with additional needs. On a Sunday morning we have an SEN team who are ready to greet any child who may need extra care or support. We also provide additional activities to help the children engage to where they are at and a selection of sensory items for them to use throughout the morning. As well as a Sunday morning we offer a once a month group called Connect+ This runs on a Sunday morning and allows the parents to talk, pray, share and encourage each other, whilst their children are cared for by our team of amazing volunteers.
Spree Camp: Every year we take a group of children aged 8-11 away on a urban saints camp trip called Spree. This is a great time for the children to step outside of the church, learn more about God and meet new children.
Holiday Club: Holiday clubs are a great way for your child to come and have fun during the holidays. They are also an opportunity for your child to invite their friends along to church! Our Holiday clubs run along to a fun packed theme during the May School holidays! more information for our 2020 Holiday club will be available soon!
Giftings: Here at Elim Coventry we have a strong emphasis on the importance of equipping our children to use their gifting now for the kingdom! within this we run ministry teams and music Projects throughout the year. These are for those children wanting to go deeper and with a heart to explore. For more information on this please contact Emma Bacon.
All of our team on a Sunday and in our Midweek groups are DBS Checked.
For more information on our children's work or any of the groups mentioned above please contact our Children's worker Emma Bacon - emma@elim-coventry.org.uk
On Sunday mornings we have a SEN team who is available to offer additional support to children.
We run a once a month additional needs group for parents called Connect+ on a Saturday morning
VOLUNTEER ON THE KIDS TEAM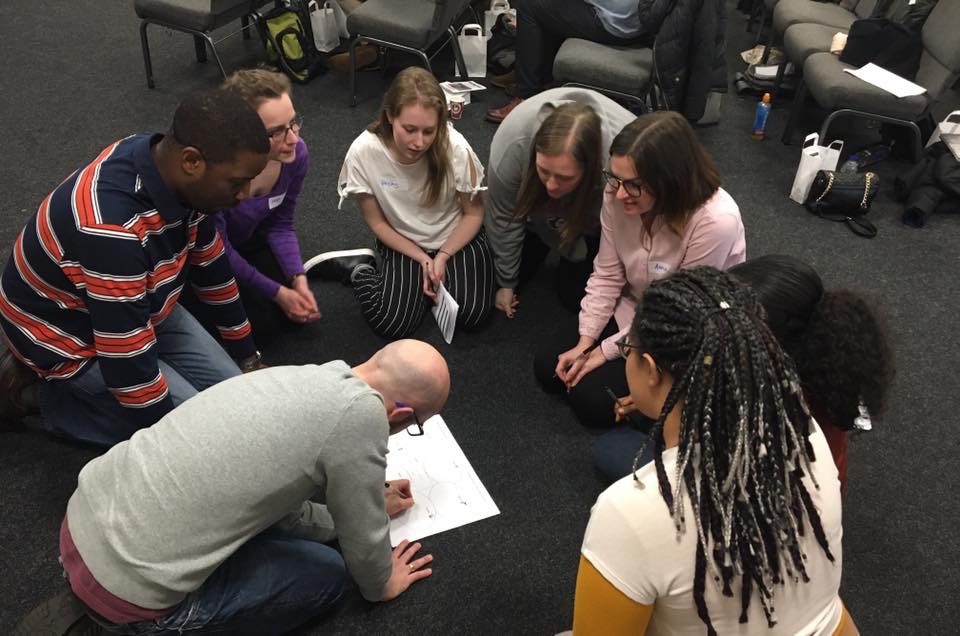 The kids team at Elim Coventry see themselves as a family! we dont just serve with each other, we do life with each other! Whether you have worked with kids before, or this is your first time, we would love to have you come and join us! If you are interested in coming on team and being apart of the amazing work God is doing in our team. Please Email Emma Bacon the Children's director by clicking on the icon bellow: